Info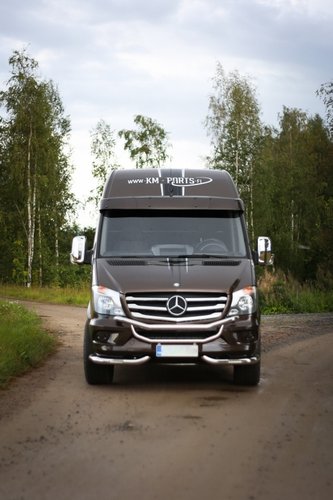 Km-Parts Oy was established in spring 2006 in Kortesjärvi, Finland. The import of the tuning parts started as a hobby but soon the owner had to establish a limited company (osakeyhtiö). Now Km-Parts Oy has it's own stock of 450 square metres.
When it all started Km-Parts Oy focused only on import and retail of Mercedes Benz sedans's tuning and chrome parts. As the years went by the product range was broaden with front guards, side bars and chrome parts for different vans. Nowdays we also have tuning parts for most vans, pick-ups, jeeps and trucks. The full product range can be found here in our web shop.
Nowdays Km-Parts Oy is an important tuning part importer an retailer in Finland. We have a big stock of side bars, side steps, bumper covers, tuning lights, front guards and spoilers for various car models. The advantages of our own stock are short delivery times and smooth customer service.
Km-Parts Oy has recieved a lot of positive feedback on our delivery times and punctuality. We will continue to do our best to be a reliable retail partner for both private and corporate customers. At the moment Km-Parts Oy is focused on domestic sales in Finland. Web shop is for Finnish sales only but if you are interested in ordering our products to other countries please leave an inquiry by email info@km-parts.fi. If you have any questions or feedback don't hesitate to contact us!
Km-Parts Oy
Perämannisentie 65
62420 Kortesjärvi

Phone: +358505992111
Email: info@km-parts.fi
VAT no: FI23246759